The faucet has plenty of space in the kitchen space and bathroom in every home. The place where the sink is located will certainly have the presence of a faucet. Every day, you and the rest of the family touch hands countless times in the faucet, but sometimes you think of cleaning it up because other items need cleaning that fills your mind. Do not worry about the clean white as the kitchen faucet and the bathroom is no longer difficult or distracting. All of them will be solved within "a note" with the very effective know-how introduced just below.
House cleaning is always a waste of time and effort of women by the "mountains" belong to the list of clean. There is an item that is rarely taken care of when cleaning the house, it is the faucet. It's time for you to start cleaning this item.
You should pay more attention to faucet cleaning because this is one of the most frequently used items (Photo: Internet).
The faucets are not noticed by the women for cleaning because of two reasons: firstly, because of the zigzag design, many difficult to clean corners, secondly due to the fear of faucet rust, so many people are afraid to use chemicals to clean this item.
If you envision cleaning the bathroom faucet, the kitchen is tough, then you will be surprised to know how to clean the faucet with two simple ingredients that every family has: paper towels (dry or wet) and vinegar. You do not need to bend back to wash the bathroom faucet, the kitchen is still white and clean as new.
If using a wet towel, you should clean the water before use, and dry paper towels are not needed. Dip the paper towel into the bowl and wrap the paper towel with vinegar on the tap. Make sure the paper towel covers the entire faucet. Leave it for about 30 minutes to an hour and use the paper towel to wipe the faucet to complete cleaning.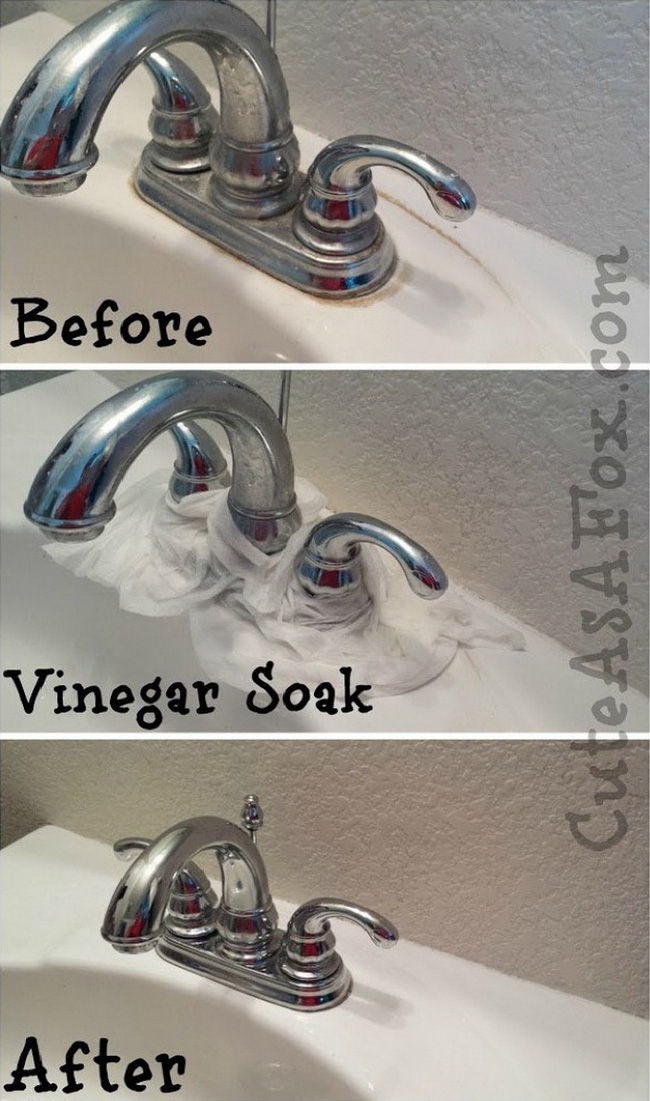 To clean as a new bathroom faucet, kitchen room you just wrap paper towels soaked vinegar around the faucet to wait 30 minutes to 1 hour and wipe is done
Now look at the results of the bathroom faucet, your kitchen. Are all the stains gone?
(According to Brightside)
See more sample: beautiful bathroom
See more sample: Beautiful kitchen
Gửi yêu cầu cho NDSA