Space constraints are a challenge for you to design a headache and small balcony is no exception. You just want to display the small pots in the garden on the balcony and want to put their seats to have tea places to admire the scenery. But the balcony narrow area does not know how to handle the rational.
Do not worry because the article below will introduce 15 small balcony corner colors to help you have more ideas in decorating your small balcony more beautiful.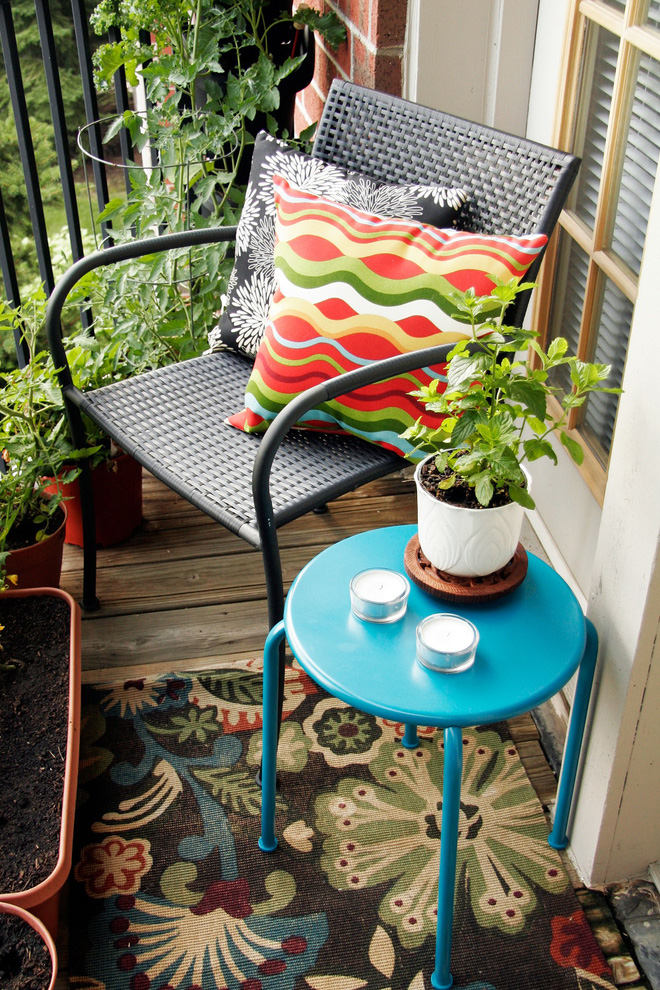 1. The balcony, no matter how small, will have space for a blue sky table and a rattan chair with some attractive backrests. The pots planted on the balcony for a pleasant, green feel create an ideal relaxation corner for you on windy days.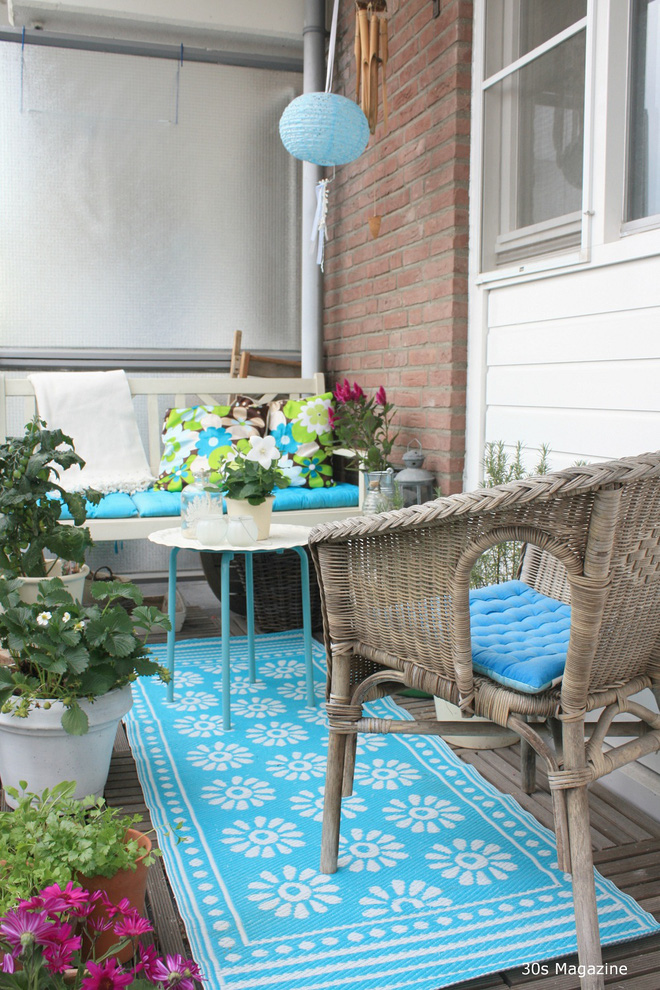 2. If the balcony has a slightly better area, think of placing a medium sized bench with a tea table and a cushioned rattan chair. Including the carpet of the sky for this extra space.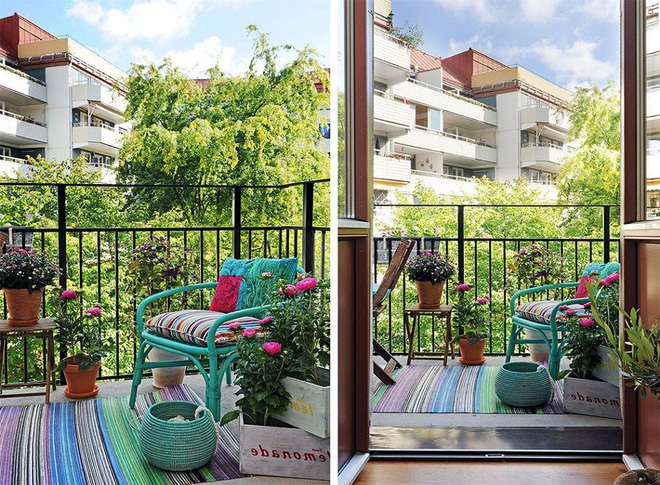 3. Bright pots are always an ideal choice to turn small balconies into colorful spaces. You can add a cushioned backrest with a couple of attractive backpacks and carpeted flooring for a great relaxing space.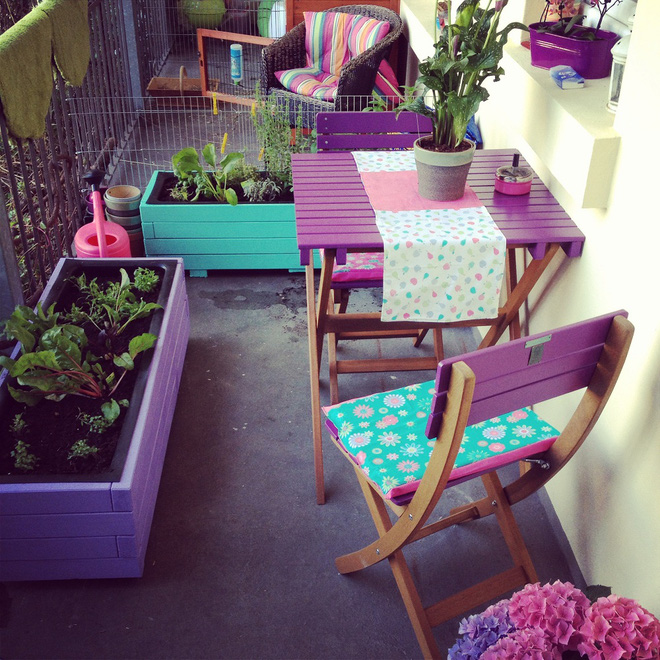 4. Purple Dreams are extremely suitable for small spaces, especially small balconies . You should apply different shades of purple to bring harmony to this space. Choose foldable tables and chairs to save space.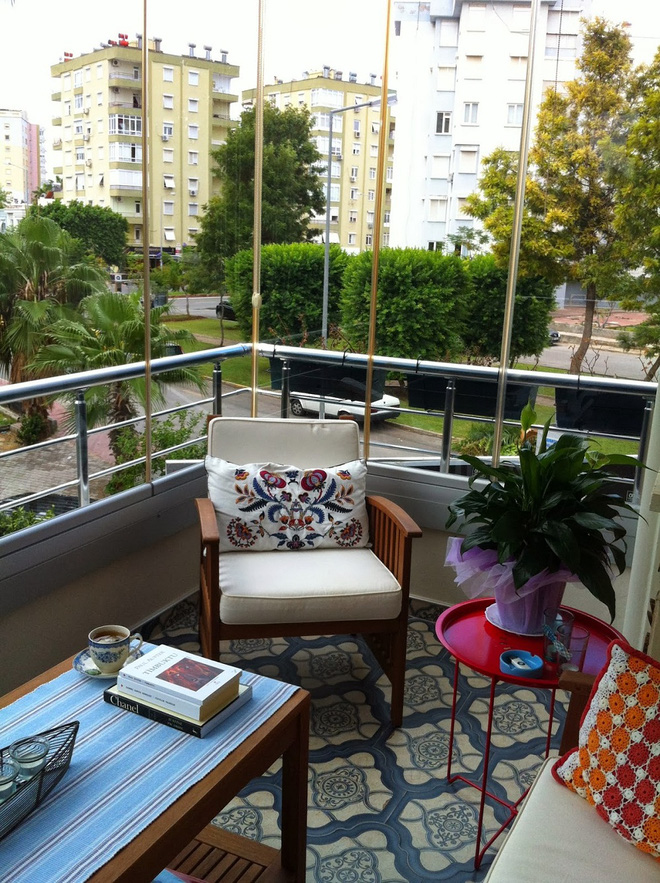 5. The town hall balcony is a modern style with teak wood tables and soft wooden cushions. The back of the pillow decorated beautifully bring the charm is hard to leave. In order to make the balcony more green, you can invest in a small table to put on a small pot that is more than enough to bring this space fresh. What's great about the early morning sipping a cup of hot tea reading some good books on this corner, you?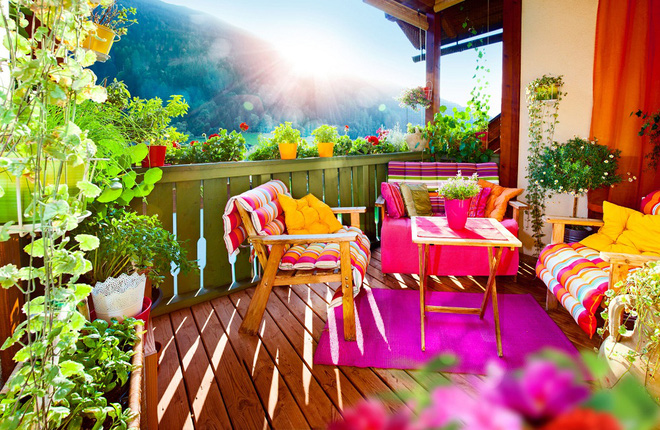 6. Heaven on earth is here. This fairytale garden is elegantly arranged by juxtaposed juicy colors such as golden yellow, candy pink or romantic purple. The seating area is so lively, you can use wooden chairs and cushions with brilliant colors on the same pillow, pillow back, monochromatic or colorful shades to highlight. vines and flower pots surround the balcony to feel you are lost in the true fairy garden. Under the sun tomorrow, this space becomes a paradise for enjoying the tea scene of the house.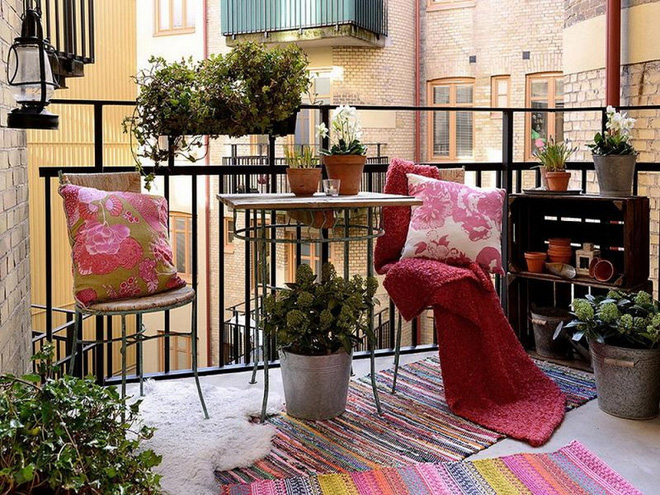 7. The balcony of a home follows the style of industrial design with the presence of familiar materials such as rough bricks, metal. The table and chairs are strangely designed, the lamp is designed classic and the brick wall bold industrial. Stylish floor mats with backrest pillows flower pattern and dark pink legs give the space to enjoy great tea. Ornamental plant pots for casual green corner.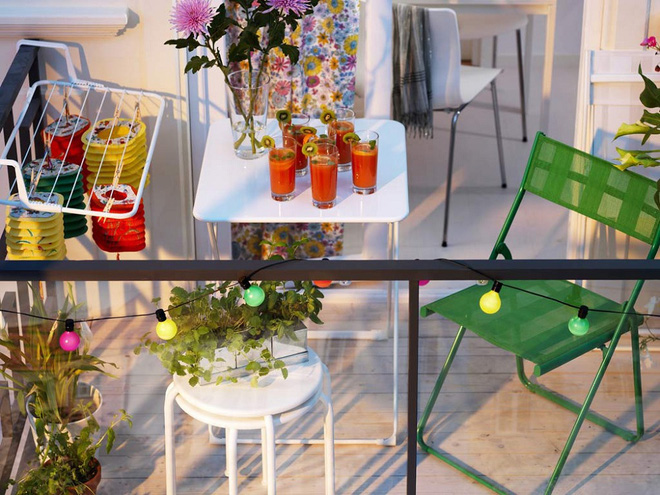 8. Small balconies do not mean that you are not allowed to experiment in style. Try to hit a little twinkling with the lights with these colorful lights to the night where the balcony flicker multiplicity. The pots planted somewhere around the balcony of nature filled this space. Tea table you should choose the monochrome pattern as the design of this white tea, seats can be green for example to create highlights.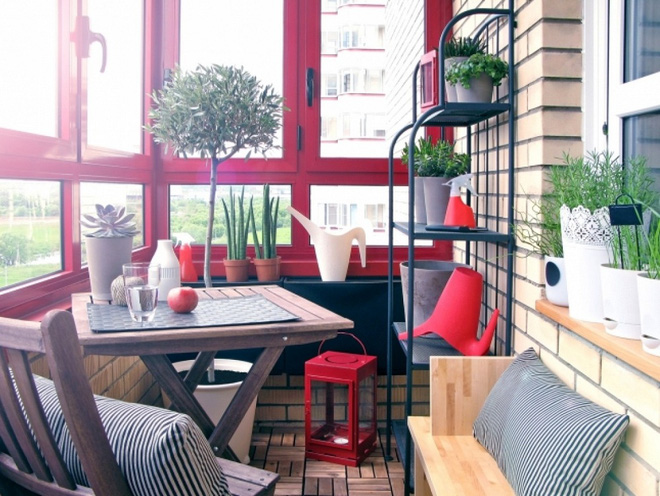 9. With the balcony closed like this please paint the window frame in highlights such as red color. The folding tables and chairs are exactly what this narrow space is all about. You can set aside a shelf to display your green garden, or place some baskets on the window sill for extra green space.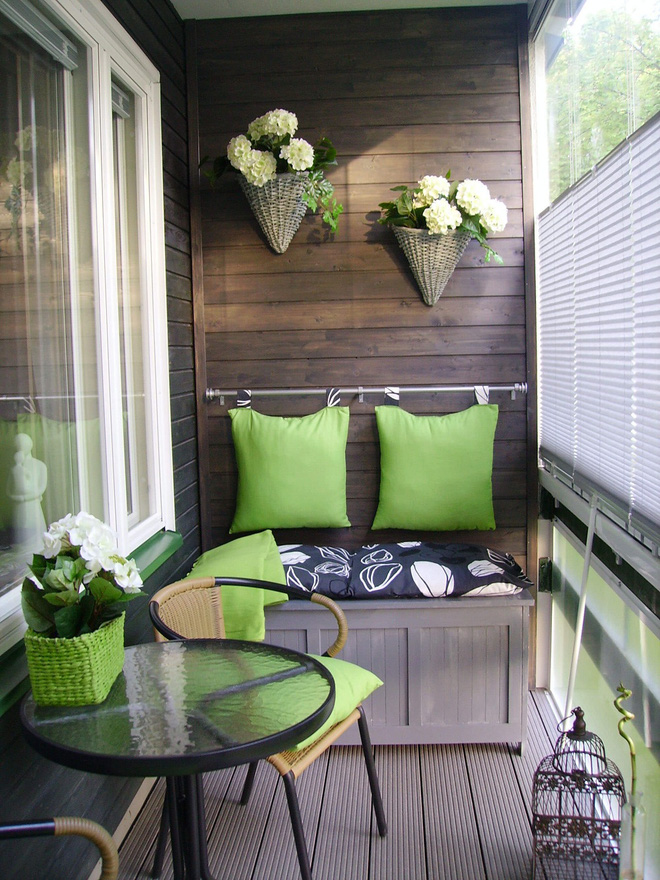 10. In the corner of the balcony with many deep interiors, the green color is suitable for you to use for more accent. Applying green for backrest pillows, rattan basket will bring great energy for you after a relaxing time in this green space.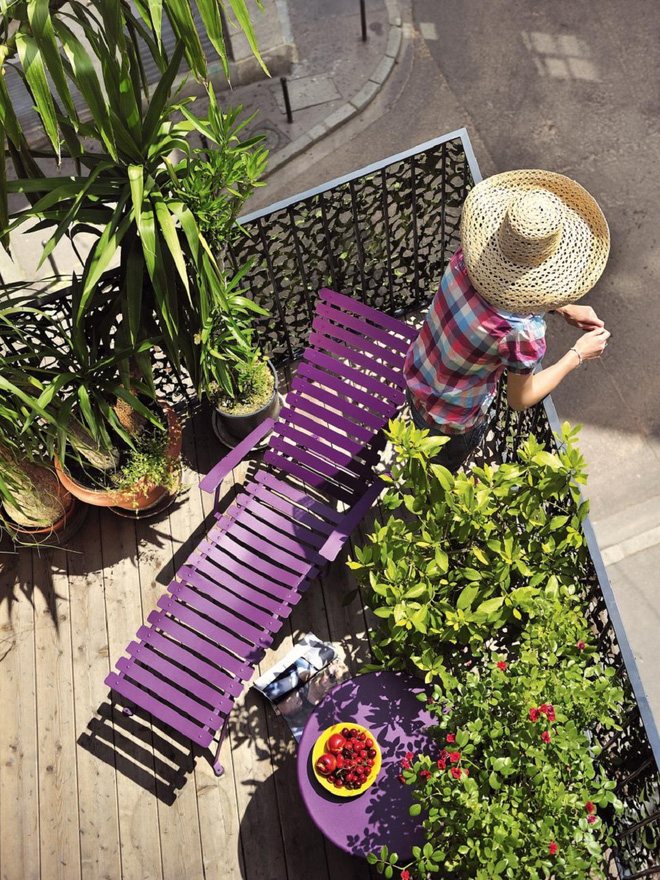 11. A wooden balcony with countless small pots is placed next to each other. A long purple sun lounger with a purple tea table is enough to make this balcony a true oasis.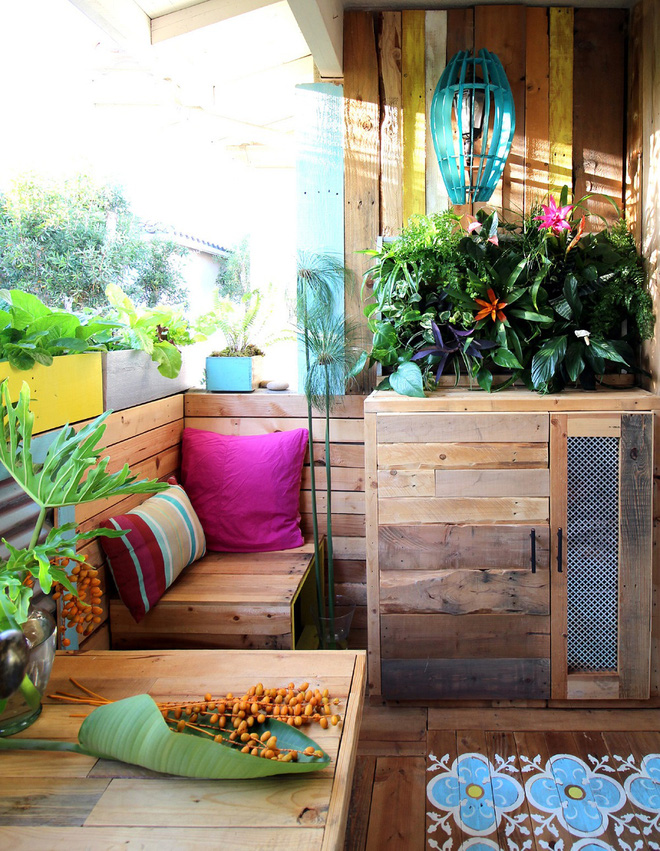 12. Wooden balcony with wooden furniture, wood storage cabinets are not difficult to combine with other colors. Try to decorate the floral motifs on the wooden floor, put some pink backing pillows or mixed colors and choose the yellow or blue pots of the sky … for this space is flooded in color. without disturbing the eyes.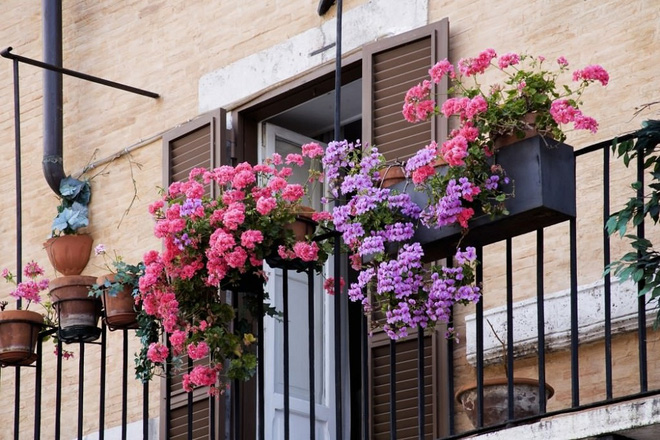 13. If the balcony is too small, it is difficult to add any chairs or tea tables. You can apply this decoration: Hang out these brilliant flowers to create the perfect spot for the balcony.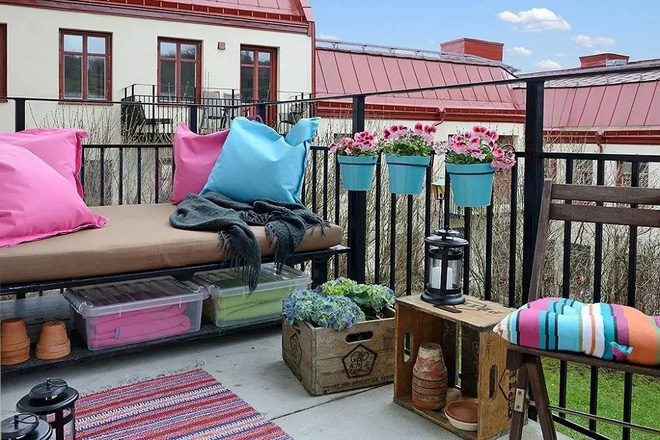 14. A cushioned iron bench with storage cushions and storage shelves give you the space to put in much needed supplies, such as warm blankets for tea and coffee plantations on the balcony and flower pots for you. They can be repaired at any time without having to move into the hard warehouses. The mattress backrests are monochromatic and carpet flooring is eye-catching, an indispensable accessory for this extra vivid space. The baskets hanging on the balcony or flower basket on the floor full of improvisation bring fresh green space.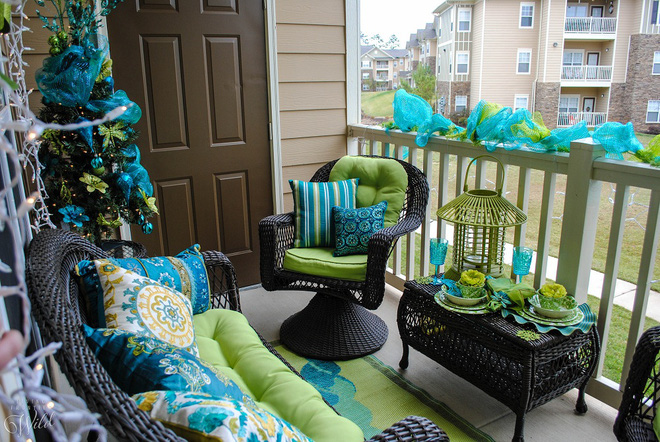 15. Rattan and bamboo furniture made of rattan is applied reasonably with green for attractive balcony.
You will not be surprised to learn that the balcony is the most decorative space in the house. With some ideas from this article hope you have more unique thoughts to turn the corner of your small balcony into a real relaxation paradise.
(Theo Decoist)