The interior of the 3-bedroom apartment of 100 m2 in Saigon is scored by the unbelievable convenience of the bed can flexibly flexible at any time to the application of the sliding door design helps separate the rooms together. and remote controls.
The three-bedroom apartment is delivered after the construction of the raw part complete with walls, windows, doors are installed. However, in order for the apartment to become a dream living space, the owner has to ask architects Ta Vinh Phuc, Nguyen Tuan Phuong of P + P Design & Construction .
Design: P + P Design & Construction
Architect: Ta Vinh Phuc, Nguyen Tuan Phuong
Area: 100 m2
Location: Ho Chi Minh City
The original three-bedroom apartment, when handed over from the owner, has many baffles, making the space become narrow due to the large part. And yet, the kitchen space along the corridor looks very dark, dark. Based on the current status of the three-bedroom apartment, architects have come up with a solution for interior design based on three main elements: linking spaces together with flexible and secure function. modern design.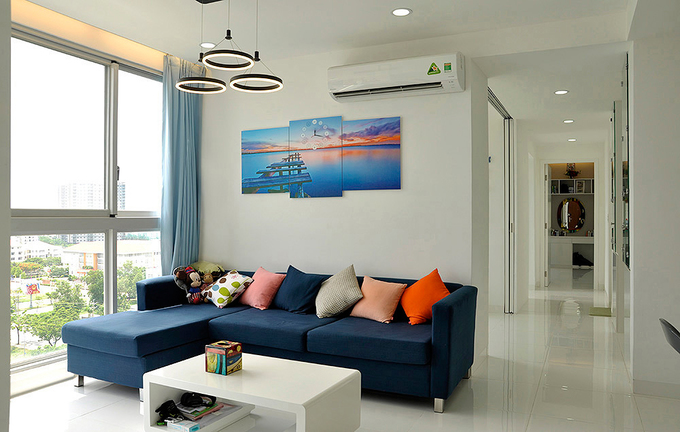 The living room area opens up to a spacious city view through a large glass window. Colorful pillows on the blue sofa for the living room, the apartment more youthful, fresh.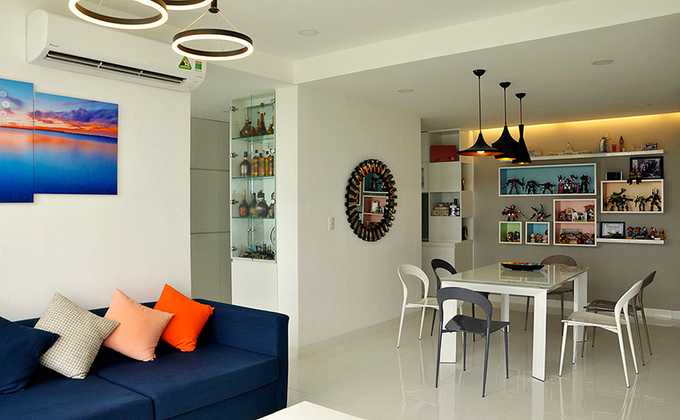 Living rooms, kitchen-dining are arranged interconnected. The neutral colors are used quite a lot in perfect combination with soft pastel colors, bringing young children to common living space attraction is hard to describe.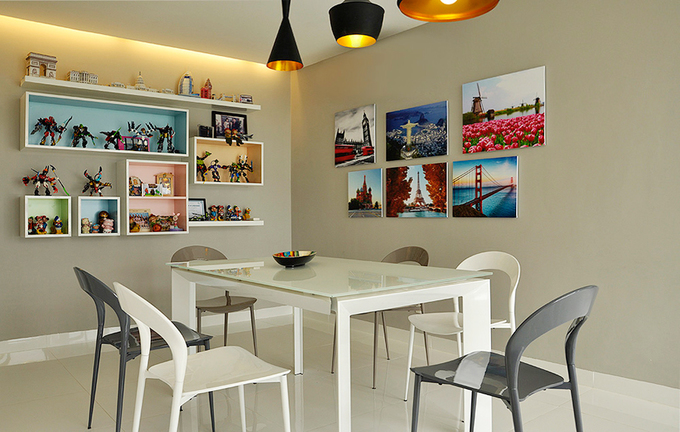 The wall paintings, the storage shelf model of children's toys lively features for the dining space of the family. The fancy cushions also contribute to the highlight of the dining room add unique.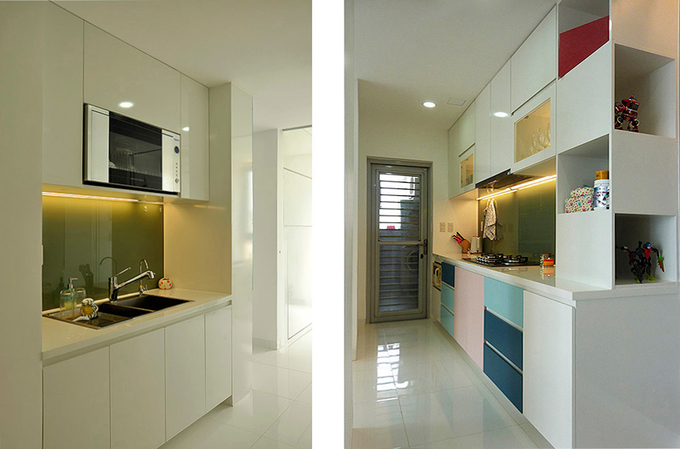 The minimalist kitchen space with white tones  is accented by kitchen cabinets with pastel pastel colors.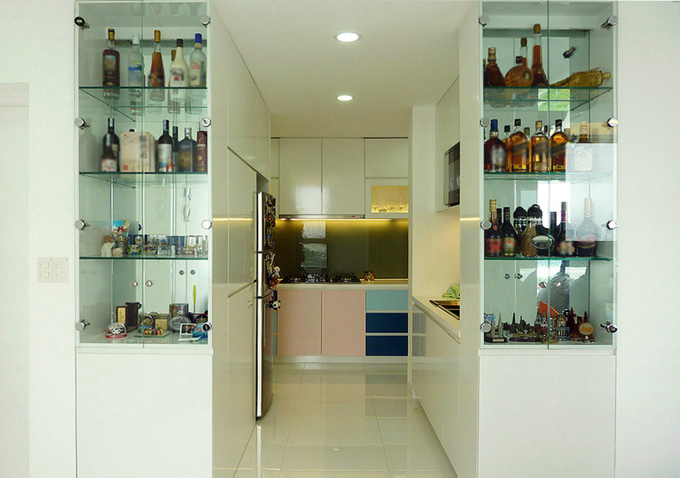 The corridor of  the apartment from the living room to the kitchen includes many storage systems from the cabinet stand, hanging cabinets, high and low different.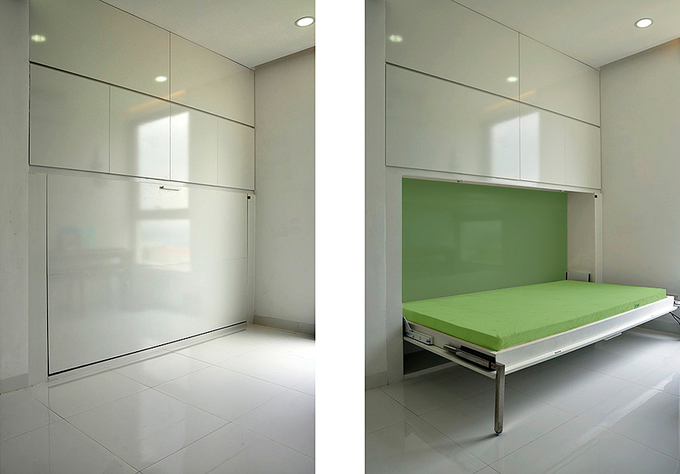 The integrated bedroom design intelligently cleans the space for this 3 bedroom apartment.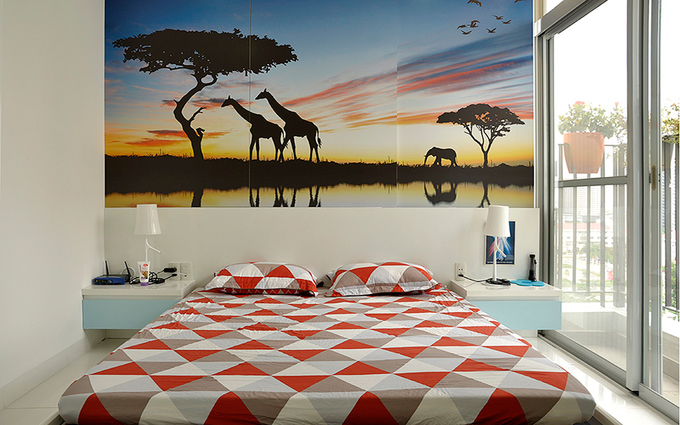 The parent's large bedroom is decorated with large landscape paintings on the bedside wall, colorful pillowcases with richly patterned geometric accents to make the room more lively. The bedroom balcony is separated from the interior by a large glass door frame.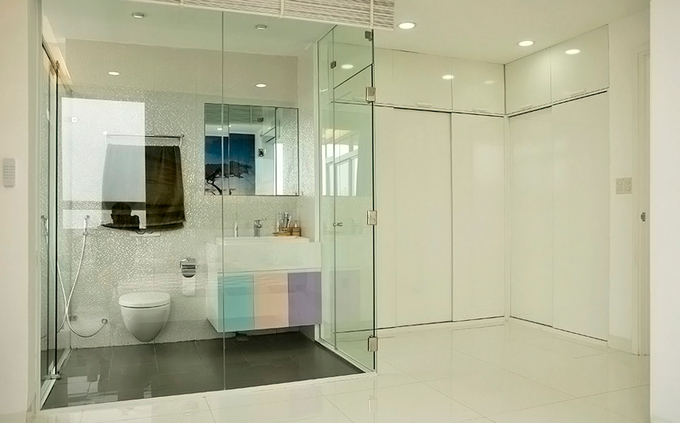 The spacious bathroom space is separated from the large bedroom and the dressing room by a toughened glass frame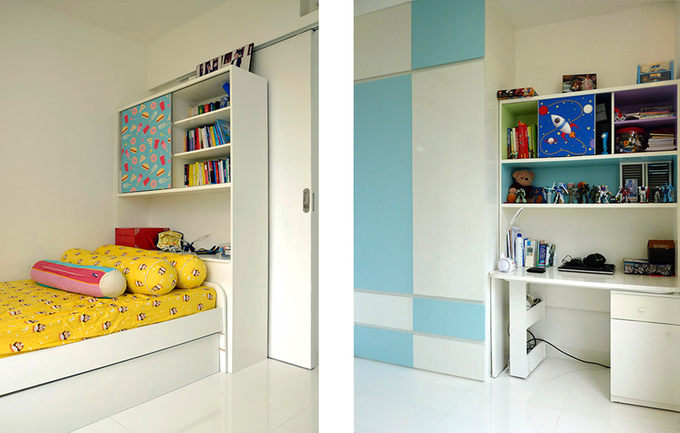 Baby bedroom furniture more colorful fun to create age appropriate. Integrated bed with desk and two beautiful blue and white wardrobe.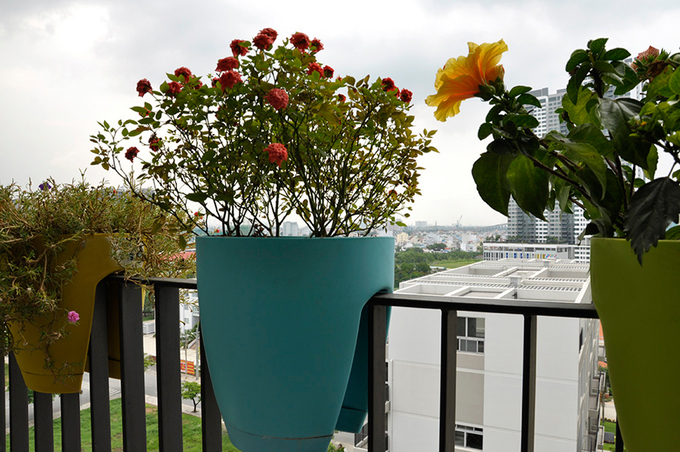 The flower baskets hanging outside the balcony for the owner space to relax the eye.
(Photo: P + P Design & Construction)
Gửi yêu cầu cho NDSA